1. Claim and Optimize Your Google My Business (GMB) Listing:
Securing ownership of your GMB listing is paramount to increase Google reviews for your business. Begin by logging into your Google account and locating your business on the GMB platform. If absent, add your business details. The subsequent verification step ensures authenticity through postcard receipt, phone verification, or email validation. With ownership established, meticulous optimization is critical. Furnish precise information, including your business name, address, phone number, and website. Elevate your listing's visual appeal with a captivating profile and cover photos complemented by high-quality images showcasing your offerings. Detailed operating hours and a succinct business description further enhance the experience for potential customers.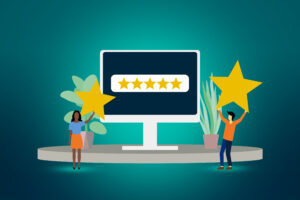 Engaging content is pivotal in your GMB strategy. Regular posts that share updates, events, and promotions keep your audience informed. Integrating visual elements elevates engagement and user interaction. Encouraging Google Reviews not only influences decisions but also enhances credibility. Employ strategic review requests through emails, social media, and in-store displays, whether positive or negative; thoughtful responses to reviews showcase a commitment to customer satisfaction. Curate a selection of positive reviews to highlight, fostering social proof that resonates with potential customers. Unlocking the potential of Google Q&A by promptly addressing queries further deepens engagement to increase Google Reviews.
2. Encourage Customers to Leave Reviews:
Google Reviews have evolved into a pivotal component of the consumer decision-making process, serving as authentic reflections of customer experiences to increase Google Reviews. More than star ratings, these reviews encapsulate the essence of your product quality, service standards, and overall reliability. Actively soliciting and spotlighting Google Reviews equips businesses with the capacity to shape their online narrative, curating a positive image that fosters customer trust, engagement, and long-term loyalty.
Encouraging customers to contribute to increase Google Reviews is akin to weaving a tapestry of trust and authenticity. In today's savvy consumer landscape, prospective buyers demand more than marketing rhetoric—they seek assurance grounded in tangible experiences. Positive reviews substantiate marketing claims, delivering real-life anecdotes that resonate on a personal level. These testimonials offer authenticity, depicting a multi-dimensional perspective transcending conventional promotional content. Some ways to increase Google Reviews for your business by encouraging customers to leave them include:
Ask in person: Train your staff to say, "We're thrilled you enjoyed your experience! If you have a moment, we'd greatly appreciate it if you could leave a review on Google. It helps us a lot!"

Follow-up emails: Send a personalized email after a customer's visit, such as, "Dear [Customer Name], thank you for choosing ABC Cafe.

We trust you had a delightful experience with us. If you could spare a moment, we'd greatly appreciate your feedback on Google about your time here.

Utilize review cards and QR codes: Design a card that says, "Share your experience! Scan the QR code or visit [shortened URL] to leave a review on Google. We appreciate your feedback!"

Offer incentives: "Leave a review on Google and receive a 10% discount on your next visit! Simply show us your review at the counter to redeem."

Via text: utilize Benchmark Intelligence software to encourage happy customers to leave a Google Review.
3. Streamline the Reviewing Process to Increase Google Reviews:
Facilitating Review Initiation: Employ precision in guiding customers toward submitting reviews to increase Google Reviews. Employ targeted email communication featuring a direct hyperlink to your Google review page. Employ a brief message like, "We value your insights about ABC Cafe: [URL]." This direct linkage simplifies the review procedure, reducing customer effort and optimizing participation.

Crafting a Review-Centric Landing Page: Elevate customer engagement by establishing a dedicated webpage designed exclusively for reviews. Engineer this page as an intuitive guide for customers navigating the review submission process to increase Google Reviews. Embed a prominent "Leave a Google Review" button that, when activated, directs users to the designated review page. This orchestrated approach ensures a user-friendly experience, fostering increased review contributions.

Harnessing Specialized Review Management Tools: Harness the capabilities of specialized review management tools like ReviewTrackers or Trustpilot to increase Google Reviews. These platforms offer streamlined review request automation, refining the review collection workflow. By automating outreach, businesses save time and cultivate a consistent, structured approach to accumulating reviews. This tactic maximizes operational efficiency and develops a robust online reputation, shaping a compelling digital narrative.
4. Engage with Reviews:
Swift Appreciation and Acknowledgment: Demonstrate your promptness in responding to positive reviews by conveying genuine appreciation to increase Google Reviews. Craft a response that echoes, "We extend our sincere gratitude for your kind words! Your positive experience at ABC Cafe brings us immense joy. We eagerly anticipate the opportunity to serve you again shortly." This proactive interaction shows your appreciation and leaves a lasting impression on the reviewer.

Fostering Interactive Dialogue: Foster a spirit of interactive engagement by tailoring your responses to the specifics of each review. For instance, if a customer highlights a particular dish, initiate a dialogue with a statement like, "We're truly delighted that our signature dish left an indelible mark on your palate! It's a favorite in our repertoire as well. Your insightful feedback is immensely valued, and we extend our gratitude for sharing your thoughts." This personalized approach showcases attentive customer care and establishes a genuine rapport with your patrons.

Extracting Value from Critical Feedback: Leverage negative reviews as an opportunity for growth and refinement to increase Google Reviews. Confront concerns head-on; for instance, when addressing an issue like slow service, state, "We deeply regret the inconvenience you experienced. Your feedback is paramount, and we are fully committed to promptly rectifying this concern to elevate the overall customer experience." This proactive stance shows your dedication to customer satisfaction and paints a portrait of a responsive business that is deeply attuned to its clientele's needs.
5. Promote Google Reviews:
Elevated Web Presence: Elevate your online transparency by integrating Google Review badges onto your website to increase Google Reviews. Display a prominent badge featuring the directive, "Explore our Google Reviews!" with a seamless hyperlink redirecting users to your dedicated review page. This initiative underscores your commitment to authenticity and empowers prospective customers with direct access to authentic peer insights, fostering a sense of trust and heightened engagement.

Social Media Amplification: Leverage the expansive reach of social media platforms to disseminate positive reviews and celebrate customer satisfaction. Craft a tactful tweet such as, "Commendations to @ReviewUser123 for their articulate review of ABC Cafe. Your contentment is our privilege! We invite you to share your own experiences and insights." This approach underscores your appreciation for customers and triggers interactive exchanges, encouraging others to contribute their thoughts and experiences to increase Google Reviews.

Synergizing with Marketing Initiatives: Seamlessly integrate customer testimonials into your marketing materials to infuse credibility and resonance to increase Google Reviews. Thoughtfully incorporate a glowing testimonial within your email newsletters like, "Experience ABC Cafe through John's lens: 'A quintessential coffee haven!' Unveil your perspectives and join our community of satisfied patrons." By adding these authentic endorsements into your marketing endeavors, you effectively bridge the realm of customer experiences with strategic promotional efforts, cultivating a dynamic narrative that resonates genuinely with your intended audience.
6. Leverage Email Newsletters and Signatures:
Compelling Call-to-Action within Email Newsletters: Enhance the impact of your email newsletters by seamlessly integrating a persuasive call to action in order to increase Google Reviews. Embed a conspicuous button in your newsletter featuring a directive like "Share Your Experience! Leave a Review on Google." Make sure to link this review button to your review page. This concise yet potent prompt empowers recipients to effortlessly voice their experiences, effectively bridging the nexus between customer contentment and active review contribution.

Strategic Inclusion in Email Signatures: Elevate the functional capacity of your email signatures as platforms for review promotion. Add a brief line that resonates with the reader: "Impressed by our service? Contribute a review on Google to disseminate your insights!" Embed a discreet hyperlink within this line, enabling interested parties to navigate directly to your review page. This approach captures attention and furnishes a discrete yet effective avenue for recipients to engage with your review solicitation endeavors and increase Google Reviews.
By adding these strategies into your email communication, you establish an framework that facilitates seamless review participation, engaging your audience with an air of professionalism that impeccably aligns with your communication standards.
7. Utilize Social Media Platforms:
Elevating Testimonials through Visual Mediums: Harness the visual prowess of social media by spotlighting customer testimonials. Utilize platforms like Instagram to share an image paired with a positive review. Accompany this image with a caption that resonates, "At the heart of our endeavors are our valued customers. Sincere appreciation to Jane for this glowing review of our services. We cordially invite you to join the conversation and share your experiences!" This tactic not only underscores customer satisfaction but also instigates interactive engagement, prompting others to actively participate in sharing their feedback.

Interactive Review Campaigns: Infuse vibrancy into your social media strategy by orchestrating review-centric campaigns. On platforms like Facebook, kickstart an engaging contest that enters participants into a prize draw upon their review submission. Craft a compelling post that communicates, "Contribute a Google review for a chance to win a $50 gift card. Your voice matters, and this is our token of gratitude!" This strategic maneuver not only incentivizes customer engagement but also aligns harmoniously with the interactive nature of social media platforms, generating excitement and cultivating a cascade of positive reviews.
By seamlessly integrating these approaches into your social media blueprint, you harness the full potential of these platforms to cultivate a dynamic ecosystem of reviews. This professional integration ensures your communication adheres to contemporary social media norms while strategically promoting your business's positive image.
8. Implement a Review Widget on Your Website:
Elevating the credibility of your online presence can be achieved by strategically incorporating a review widget onto your website to increase Google Reviews. A well-designed approach is to allocate a distinct section on your homepage that prominently showcases recent Google Reviews. Introduce this feature with a compelling headline such as "Insights from Our Customers," followed by an engaging carousel displaying reviews with star ratings and concise excerpts. This judicious integration augments instant credibility and infuses an authentic dimension into your brand's portrayal, underscoring the positive sentiments shared by your patrons. By deploying a review widget, you weave an inviting narrative that resonates profoundly with potential customers, urging them to delve into the authentic perspectives offered by your contented clientele.
9. Offer Exceptional Customer Service:
Elevating your customer service standards can significantly impact your business's reputation and increase Google Reviews. Make customer satisfaction a paramount goal by nurturing a culture of personalized service that surpasses expectations. Empower your staff to exceed customer expectations by incorporating thoughtful gestures—perhaps surprising patrons with a complimentary dessert or extending appreciation through follow-up thank-you emails after their visit. These extra touches resonate deeply with customers, enhancing their overall experience and fostering loyalty.

Invest in your staff's proficiency in customer service through comprehensive training to increase Google Reviews. Conduct regular training sessions to equip your team with exceptional communication skills, adept problem-solving techniques, and extensive product knowledge. Encourage them to engage with customers and swiftly address any concerns actively. By nurturing a comprehensive skill set within your team, you ensure that every customer interaction reflects professionalism, attentiveness, and effectiveness. This commitment to continuous improvement in customer service enhances customer satisfaction and positively shapes your business's reputation in the competitive market landscape.
10. Respond to Reviews with Gratitude:
Nurturing an atmosphere of appreciation can increase Google Reviews. When faced with a positive review, express your gratitude with authenticity. For instance, respond with, "David, we extend our heartfelt gratitude for your exceptional review. Your acknowledgment of our attentive service and delectable cuisine resonates deeply with us. We eagerly await the opportunity to welcome you back for another extraordinary dining experience." This approach not only showcases your genuine thankfulness but also fosters a sense of meaningful connection with reviewers.

Increase Google reviews responses by tailoring them to individual experiences and citing specific elements. In cases where a reviewer highlights a particular menu item, for instance, reply with, "Emily, your review holds special significance to us, and we sincerely appreciate your praise for our signature pasta dish. It's indeed a standout among our chef's creations. Your feedback reinforces our dedication to maintaining consistently exceptional culinary offerings. We eagerly anticipate the pleasure of serving you anew, delivering the same level of excellence." By expertly customizing your responses, you demonstrate gratitude and cultivate a nuanced rapport with reviewers, showcasing your attentiveness to their insights.
Conclusion
Customizing these additional steps to suit your business can encourage more customers to increase Google Reviews. Remember, providing outstanding service and engaging with your customers will help foster positive experiences that will increase Google reviews and strengthen your online reputation. The meticulous deployment of these ten validated strategies for augmenting Google reviews is a testament to businesses' unwavering pursuit of excellence. A comprehensive approach to bolstering review numbers takes shape through the cultivation of engagement, accurate profile optimization, and proactive review solicitation.
This multifaceted endeavor amplifies a brand's online credibility and fosters a sense of trust among current and prospective customers. As businesses align their efforts with these proven tactics, they embark on a journey toward cultivating a vibrant digital presence that resonates with authenticity and unwavering commitment to customer satisfaction.